The Mission
The Story Of The Mission District
The Mission is the fascinating story of one of the oldest and most vibrant neighborhoods in San Francisco. The Mission District was originally home to the Ohlone Indians, nomadic hunters and gatherers. They roamed the lush marshlands and verdant hills of the Bay Area for over 2,000 years, living in harmony with the land and its mysteries. But with the many waves of immigrants who, in a little over 200 years, dramatically transformed the Mission District several times over, such harmony vanished.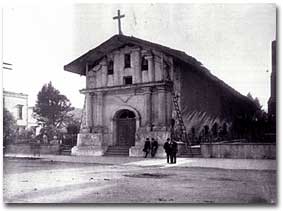 The first settlers were the Spanish friars, who arrived in 1776 to establish a mission in the area. Their efforts to convert the Ohlone into loyal, docile Christians and use them as a source of slave labor desecrated the Ohlone way and rendered its people extinct. A way of life that had endured for generations was obliterated in just three short decades!
But the Spanish empire was soon to crumble as well. The Spanish missionaries were supplanted by the Californios, Mexican-born traders and retired soldiers. They turned Mexico's newly won independence from Spain to their advantage by taking over the mission lands and turning them into vast ranchos. Their wealth sparked the growth of Yerba Buena, a port city to the north that was later to be renamed San Francisco.
From Californio Ranchos to Cosmopolitan Neighborhood
The Californios' tenure was to last less than two decades. Their hold on the land was guaranteed by treaty with the United States government when the area came under American dominion after Mexico lost the Mexican-American was of 1846. But such paper promises meant nothing in the face of the land-grabbing fortune hunters who heard the siren call of the California Gold Rush of 1849. Practically overnight, the population of San Francisco exploded from less than 1,000 to more than 34,000!
The newcomers stayed on after the Gold Rush faded, and turned the area into a bona fide city primarily populated by working people. Real estate speculators bought up the Californios' ranchlands and turned them into residential neighborhoods, dotted with thousands of hastily erected yet sturdy Victorian houses chosen from catalogs. These became the homes of the people who worked the factories, shipyards and restaurants of San Francisco. They hailed from all over the globe – from European countries such as Germany, Scandinavia and Ireland, and from Latin American homelands such as Puerto Rico, Chile, and Colombia. By the early 1900's, the Mission District had become home to a rich diversity of ethnic groups and cultures, from blue collar workers to the city's elite.

What Sparked the Gold Rush?
It began with rumors, but the rumors weren't confirmed until a gentleman by the name of Samuel Brannan visited Coloma and Mormon Bar on the American River in 1848. He returned to San Francisco and walked up and down the streets brandishing glittering particles of gold, shouting "Gold, gold, gold from the American River!"
By the summer of that year, gold fever had struck southern California and northern Mexico. It later spread to Hawaii, Oregon and other parts of the United States. Almost three quarters of California's newcomers were from the continental United States, originally hailing from countries in western Europe. Males outnumbered females 12 to 1.
Later on Chileans, Australians and some Chinese joined the ranks of fortune-hunting prospectors. Still later, thousands of impoverished or persecuted Europeans took to the high seas and braved cholera, thirst and numerous other hardships in the hope of a better life for the distressed and the lure of an easy fortune for the greedy. In the first three years of the Gold Rush, more than 200,000 people came to California, in one of the greatest peaceful mass migrations in human history.
Historical Timeline
(Just the easy regular modern events – no 'tech fever' mentioned)
4000 – 5000 yrs ago Ohlone ancestors migrate across Bering Strait.
1510 Magellan crosses Pacific Ocean.
1521 Cortes conquers Mexico and names it "New Spain"
1769 San Francisco Bay named by Europeans for the first time.
1776 Presidio of San Francisco founded. Mission Dolores founded.
1795 Ohlone resisters rebel against Mission.
1821 Mexico declares independence from Spain.
1824 The Mexican Colonization Act gives land to the Californios.
1834 Mexican government ends church ownership of Mission.
1848 Mexico loses war with United States.
1848 Gold discovered at American River, California.
1851 Plank road built from San Francisco to the Mission.
1901 Major strike strengthens unions in San Francisco.
1906 Earthquake starts fire, destroying much of San Francisco.
1915 First transcontinental talk by phone.
1918 Great flu epidemic.
1934 General strike ties up San Francisco.
1939 World's Fair opens in San Francisco.
1953 U.S. Committee on UnAmerican Activities opens hearings.
1964 Band of Sioux Indians claims Alcatraz Island.
1969 Seven young Mission men accused of murdering an Irish policeman.
1988 Cesar Chavez leads march for farm migrant workers in San Francisco.
1989 Earthquake strikes Bay Area.
More MODERN HISTORY
San Francisco's History is Rooted in Latino Culture
San Francisco's history, heritage, arts, culture and comida have roots that extend far south of the U.S. border.
Spanish missionaries arrived in San Francisco (then known as Yerba Buena) in 1776. A Catholic priest named Father Palou founded Mission San Francisco de Asis, which still stands in the Mission District as Mission Dolores on 16th and Dolores streets. It is the oldest structure in San Francisco. California and Mexico were part of Spanish territory until 1821, when Mexican independence marked the end of European rule in California. The missions' influence shrank while ranching and trade increased.
Latino Culture in Post-Mexican California
The Mexican-American war (1846-1848) ended with the Treaty of Guadalupe Hidalgo in 1848. In that treaty, the United States agreed to pay Mexico $18,250,000; Mexico formally ceded California (and other northern territories) to the United States.
Mexican citizens living in these territories became Americans "overnight," although the terms of the treaty gave these Mexicans one year to accept their American political status. The treaty granted them full rights of citizenship as well as protection of Mexican-American language, culture and land, although the articles dealing with land protections were later removed prior to ratification by Congress.
The vast majority of Latinos chose to stay and become full U.S. citizens. Although the treaty promised that the landowners in this newly acquired territory would enjoy full enjoyment and protection of their property as if they were citizens of the United States, many former citizens of Mexico lost their land in lawsuits before state and federal courts or as a result of legislation passed after the treaty. Most land grantees and their families retreated south.
During the California Gold Rush, at least 25,000 Mexicans, as well thousands of Chileans, Peruvians, and other Latin Americans arrived in California. Many of these Latinos were experienced miners and had great success mining gold in California. Their success aroused animosity by Anglo prospectors who intimidated Hispanic miners with the threat of violence and committed violence against some. Anglo miners also drove Hispanic miners out of their camps, barred non-Anglos from testifying in court and imposed exclusionary standards similar to Jim Crow laws in the case of African-Americans. Between 1848 and 1860, at least 163 Mexicans were lynched in California alone. Many Anglo 49ers turned to farming and moved, often illegally, onto the land granted to Californios by the old Mexican government.
The 1900s
In the early 1900s Mexican and Mexican American migrant farm workers labored under squalid conditions in California. At that time, the Mexican Revolution and the series of Mexican civil wars that followed pushed many Mexicans north. Many U.S. farm owners recruited Mexicans and Mexican Americans because they believed that these desperate workers would tolerate living conditions that workers of other races would not.
Mexican workers often earned more in the United States than they could in Mexico's civil war economy, although California farmers paid Mexican and Mexican American workers significantly less than white American workers. By the 1920s, at least three quarters of California's 200,000 farm workers were Mexican or Mexican American.
During The Great Depression, the United States government sponsored a Mexican Repatriation program which was intended to encourage people to voluntarily move to Mexico, but thousands were deported against their will. More than 500,000 individuals were deported, approximately 60 percent of which were actually United States citizens.
The attack on Pearl Harbor launched the U.S. into World War II and sent men to the military and the California Japanese to internment camps. Lobbied by frantic growers, the federal government scrambled to establish a program that would replace the missing workers and be ready for the harvest of 1943.
The contract labor agreement between the U.S. and Mexico was known as the Bracero Program (bracero from the Spanish word brazo for arm, meaning strong-armed worker).  By the 1950s, some workers had sent for families and settled into a new life. A worker with a green card could stay on at the end of the harvest season if a rancher agreed to employ him year-round. By the end of World War II in 1945, the agricultural program under various forms survived until 1964, when the two governments ended it as a response to harsh criticisms and reports of human rights abuses.
During the 1940s through the 1960s, large numbers of Mexicans moved into San Francisco's Mission District, giving it the Latino character it is known for today. During the 1980s and 1990s, immigrants and refuges fleeing civil wars from Central and South America joined the Mexican population. Today, the neighborhood is ethnically and economically diverse, comprising half Latino, one-third Anglo (White) and 11 percent Asian.
Modern Latino Culture
Numerous Latino artistic and cultural institutions are based in the Mission, as the district is known. The Mission Cultural Center for the Latino Arts, established by Chicano (Mexican-American) artists and activists, is a rich art space serving all ages of the community. It is considered the "epicenter of Latino culture," with rotating exhibits, classes and lectures.
The Mission's Galería de la Raza, founded in the 1970s by local artists active in el Movimiento (the Chicano civil rights movement), is nationally recognized as one of the Bay Area's respected arts organizations.
Balmy Alley Mural Project is a small alley in the Mission where visitors can see a collection of murals painted by Mexican and Central American artists. Many murals were initiated by the Chicano Art Mural Movement in the 1970s and inspired by traditional Mexican paintings made famous by Diego Rivera; many can be found on Balmy and Clarion alleys.
The Precita Eyes Mural Arts and Visitors Center has guides available to show murals in San Francisco either by foot or bicycle.
While the Mission District is full of street art, other parts of San Francisco also feature murals from Diego Rivera. These include: The Pacific Stock Exchange, the San Francisco Art Institute and San Francisco City College.
Murals tell a story of pan-Latino solidarity in SF's Mission District
The Mission District in San Francisco boasts good weather, great food, and more murals than any other neighborhood in the city.
Many of these paintings celebrate the landscapes and cultures of Mexico and Central America, as well as the violence and civil wars that racked Nicaragua, El Salvador, and Guatemala. Those conflicts fueled the migration of thousands of Central Americans to San Francisco over three decades, beginning in the 1980s.
Mauricio Ramírez is an artist, a muralist, and a native San Franciscan who is fascinated by the Mission's murals—and by the progressive coalition of artists and immigrants that coalesced during those decades.
"I saw these murals created mostly by Mexican Americans and Chicano artists, and I wondered what would make them paint in solidarity with Central Americans," explained Ramírez, a third-year doctoral student in Latin American and Latino studies whose dissertation focuses on transnational solidarity in Latinx visual art in the San Francisco Bay Area. "Mexican American and Chicano activists were very welcoming."
Rooted in the Chicano rights movement
Scholars have written about the city's support for Central American refugees, the sanctuary movement, and opposition to U.S. intervention in the region, but little about the art that blossomed during the era.
"A lot of the Mexican American artists came from the Chicano rights movement of the 1960s, and they were against the Vietnam War," said Ramírez. "A lot were self-taught. They were politically motivated, and one of their outlets was art.
"For newly arrived Central Americans, seeing images from their homelands provided a warm welcome. "They could feel at home, they could feel safer," he said.
Ramírez earned his B.A. in art from UC Santa Cruz (Oakes, 2012) before getting a M.A. in teaching visual arts from the University of the Arts in Philadelphia in 2014. He puts his art and teaching talents to work every Friday night, teaching art at juvenile hall in San Mateo and San Francisco.
"It's one way of giving back," said Ramírez, who became immersed in the Mission's mural scene as a high school student. He contributed to murals all over the city as a youth.
With support from the Social Science Research Council Dissertation Proposal Development program, Ramírez spent the summer interviewing muralists, conducting library research, and combing archives to recreate the story of the Mission's murals, particularly those adorning the walls and garage doors of Balmy Alley, a one-block street between 24th Street and 25th Street that is home to the most concentrated collection of murals in the city. Balmy Alley's murals appeared in large numbers in response to a 1984 Artist Call to protest U.S. intervention in Central America; a group of 36 artists created 27 murals in Balmy Alley during the summer of 1985, helping to establish the Mission as a "mural environment."

The Ancient Americas collection at the de Young Museum houses collection of objects from Mesoamerica, Central and South America. Specifically, The Harald Wagner Collection of Teotihuacan Murals, the largest group of Teotihuacan wall murals outside of Mexico, a Peruvian mouth mask of hammered gold from the Nazca culture.
The Yerba Buena Center for the Arts (YBCA) features Latino art as part of its commitment to the San Francisco Bay Area to support local arts and reflect the region's diversity. The YBCA has included Teresa Fernández and Julio Cesar Morales and other local artists in its exhibits.
Annually during Memorial Day weekend, the Mission District celebrates Latino culture with "Carnaval," the largest multi-cultural event in San Francisco showcasing the best of Latin American and Caribbean cultures and traditions. Food, music, dance and art span eight blocks, with a brightly festive parade culminating on Sunday.
Gentrification
For Ramírez, the pace of gentrification has added to the urgency of his project.
"Most of the murals were created by Latinos, and Latinos are being displaced," he said. "What's going to happen to these murals down the line? Will they be protected? Conserved? Whitewashed?"
Ramírez is interviewing well-known Bay Area artists, such as Ray Patlan and Patricia Rodriguez, as well as leaders of community organizations such as Precita Eyes Muralists Association, a nonprofit that has helped create more than 400 murals throughout San Francisco and is active in preserving existing artwork.
"When people think about murals, they don't think about high art, but some of these murals are impressive works by really talented artists," said Ramírez.
Ramírez is one of twelve UC Santa Cruz graduate students who received support from the campus's new Social Science Research Council Dissertation Proposal Development program. Recipients received $5,000 and were invited to attend two dissertation-proposal workshops with doctoral students and their faculty advisers from four other universities. As the lead administrator for the UCSC program, which is hosted by the Institute for Humanities Research and the Graduate Division, Vice Provost and Dean of Graduate Studies Tyrus Miller attended the June workshop in Pittsburgh.
http://www.foundsf.org/index.php?title=Midcentury_Migrations                               http://www.migrationpolicy.org/article/central-american-immigrants-united-states
Latino-inspired Annual Events
May
Cinco de Mayo (May 5)
Dolores Park, Dolores and 18th St., 415-206-0577
www.sfcincodemayo.com
This community-based cultural heritage event commemorates the self-determination of the indigenous people of Mexico.
Carnaval*
Memorial Day Weekend
Mission District, 415-920-0122
www.carnavalsf.com
San Francisco's version of Mardi Gras, Carnival is one of the City's largest annual public events, and features exotic Carnaval dancers with a mixture of Latino, jazz, samba, Caribbean influences. Carnival's festive parade on Sunday morning draws upon a broad cultural pageantry.
September
Viva Las Americas!*
Pier 39, 415-705-5500
www.pier39.com
Hispanic heritage is the focus of this event, featuring music and dance performances commemorating the artistry of Mexico and Central and South America. Face-painting and craft-making for kids.
October – November
Day of the Dead
Mission Cultural Center*
2868 Mission St.
415-821-1155
www.missionculturalcenter.org
The Mission Cultural Center exhibits Day of the Dead alters, and organizes workshops and other Day of the Dead events.
November
Latino Film Festival*
Castro Theater, Galeria de la Raza, Mission Cultural Center and other venues, 415-754-9580
www.sflatinofilmfestival.com
This quickly-growing festival spotlights the best in U.S. premieres, documentaries, features and shorts emerging from Latin America and Latino filmmakers.